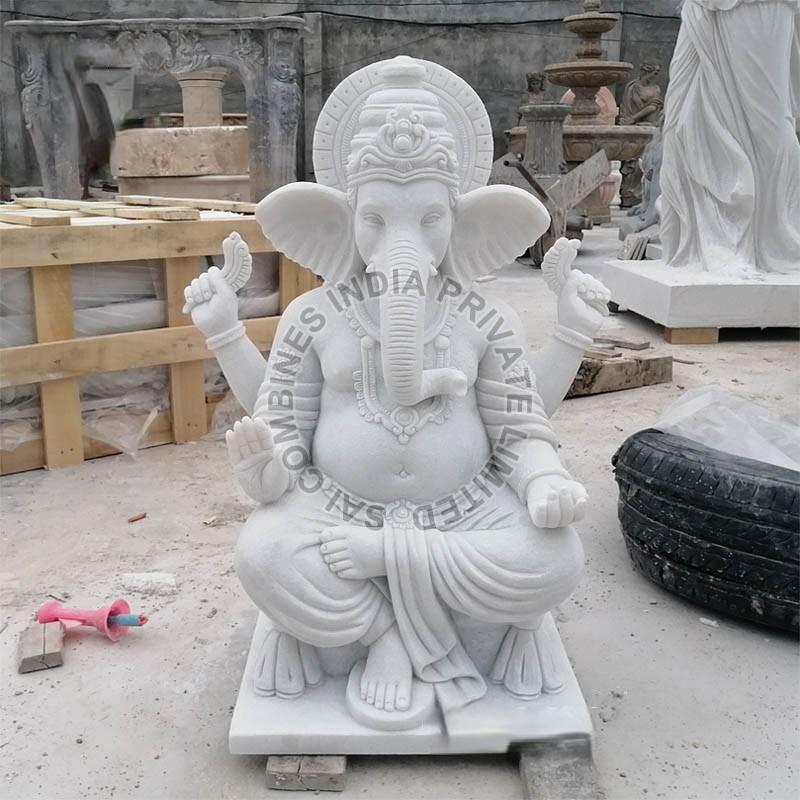 In Hinduism, Lord Ganesha is one of the most adored gods and is regarded as the deity of beginnings, wisdom, and obstacles. Vinayaka, Ganapati, and Vighnaharta are just a few of the other names he goes by. Legend has it that Goddess Parvati created Lord Ganesha as a watchman to protect her as she bathed.
Given that he possesses both an elephant's head and a human body, Lord Ganesha is also seen as a symbol of unity in Hinduism. Outside of Hinduism, he is revered in Buddhism and Jainism as well as among Hindus. All things considered, Lord Ganesha is a significant character in Hindu mythology. It is revered by millions of followers throughout.
Depiction of Lord Ganesha on a Pillar in Indian Architecture
In Indian art and architecture, the marble Lord Ganesha statue on a pillar is a well-liked Lord Ganesha portrayal. Lord Ganesha is seen in the statue standing and frequently clutching an axe, a bowl of candy, and his broken tusk. These symbols represent him and are typical to him, such as the lotus flower. Marble is a material that is highly prized in Indian culture.
Hence, it is noteworthy that the statue was made of marble. It stands for excellence, toughness, and endurance. Given the significance of pillars as crucial components of Indian temples and building architecture, the pillar on which the statue is frequently erected is essential.
The Marble Lord Ganesha Statue on Pillar is frequently erected in temples, houses, and public places. It is a way to ask for His blessings and protection. It is regarded as a sacred symbol of Lord Ganesha. It is also a well-liked gift that is frequently given during festive and noteworthy events.
Lord Ganesha Marble Statue's Symbolic Meaning
Several of the statue's primary symbols are listed below:
The Posture of Lord Ganesha
Lord Ganesha is shown in the Marble Lord Ganesha Statue On Pillar standing with his feet apart. Stability, balance, and strength are represented by this position. Additionally, it shows that Lord Ganesha is prepared to overcome any challenges that may lie ahead.
Five Arms
Lord Ganesha frequently has four arms, each of which is grasping a different thing. Lord Ganesha's four arms stand for his omnipotence and multitasking skills. The significance of each item that Lord Ganesha is holding is also distinct. For instance, the sweets bowl represents the advantages of spiritual practice, and the axe represents Lord Ganesha's power to remove ignorance.
Elephant-headed
A representation of Lord Ganesha's might, wisdom, and intelligence is his elephant-headed visage. Elephants are usually known for their intelligence, memory, and ability to overcome obstacles. It explains why these qualities are also associated with Lord Ganesha.
Conclusion
The marble Lord Ganesha statue On pillar is a significant portrayal of Lord Ganesha in Indian art and architecture, in general. It serves as a reminder of his importance in Hindu culture and mythology. It also represents his strength, power, and wisdom. The Marble Lord Ganesha Statue On Pillar serves as a constant reminder to followers of his prowess in removing barriers and bringing success.